ONLINE VAPE SHOP UK
Let you enjoy the pleasure of smoking a cigarette without using one!
Welcome to Cambridge Lab Vapes, UK, the largest online vape shop and supplier in the UK. We aim at providing you with the most trustworthy vape juice at the lowest price with no compromise in quality.
Compatible with every vaping device, the best vape juice in the UK that we provide include classic tobacco and menthol flavours and exotic fruity vape juices even with a twist of mixed fruit flavour!
Being a proud British brand, Cambridge Lab Vapes can offer its customers high standard best e-liquids at a very reasonable rate. Anyone can check the quality of our products easily as there is full traceability of every ingredient. An ISO Class 7 cleanroom facility produces our e liquid. An independent pharmaceutical UK laboratory tests our products for their quality. Safety is our major priority; hence, the bottles of the best vape juices we provide are childproof, with tamper-evident caps.
Thus, you are currently at the right destination if you need a trustworthy vape company that produces the best e-liquid in the UK at a reasonable price without compromising quality.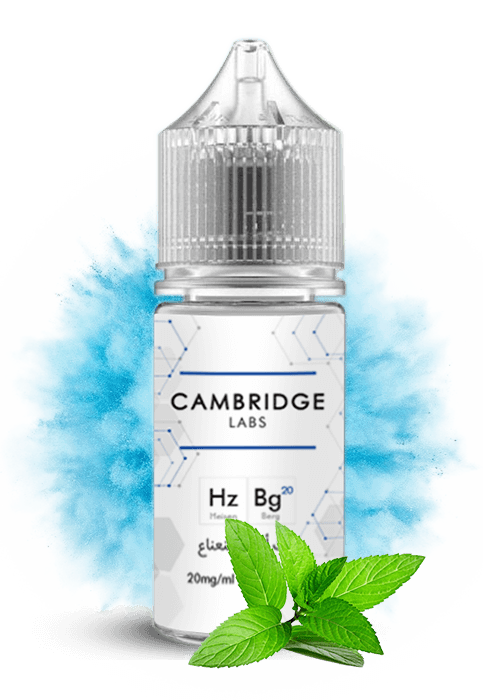 What is e-liquid?
E-liquid is the flavoured mixture that you add to your e-cigarette for vaping. Vape tank stores the e liquid. On heating, e-liquid evaporates and forms vapour. The user then inhales and exhales the vapour.
A vape juice (called by different names, e-liquid, e-juice, e-fluid) is a mixture of 4 or 5 ingredients. The packing will have a list of all the ingredients. These core ingredients are :
Vegetable Glycerin (VG)
Propylene Glycol (PG)
Nicotine
Flavouring (Usually Food Grading)
Water
By knowing the amount of nicotine in the mixture, we can determine the nicotine strength in the vape juice. For instance, let us assume it to be 10%, then the flavouring content may constitute another 10%. A combination of PG and VG constitutes the remaining 80%.
Ingredients of e-liquid are safe for human consumption. But, if an e-liquid is swallowed or comes in contact with skin, it becomes hazardous. Hence, deal with the e-fluid with caution.
What is Propylene Glycol?
A byproduct of petroleum, the Propylene Glycol, is a thin, clear, odourless and flavourless additive with a viscosity similar to that of water and hence is less dense than a VG. PG in the e-liquid produces the "Throat hit". It is efficient enough to provide a hit similar to smoking tobacco.
Compared to the VG, PG carries flavour at its best. Thus, e-liquid is the best liquid for suspending the flavour concentrates and nicotine.
Several everyday household items, including oral hygiene products, medical products and beauty products have PG in them. Tests suggest that it is safe to ingest e-liquid orally. The food and drug authorities recognize e-liquid as a safe food additive product.
PG is easy to vaporize as it is thinner than VG. Hence, lower-powered mouth to lung pen drives use PG in them. High PG liquids are more popular among first-time vapers who intend to switch from smoking to vaping. They are typically higher in nic strength, thus giving a closer replication of a traditional cigarette.
What is Vegetable Glycerin?
The vegetable Glycerin, with a much thicker consistency, is a sweet and natural chemical obtained from vegetable oil. This non-toxic sweet ingredient in e-juice is the one that introduces the "thick vapour sensation". VG, which is more vicious, thicker and sweeter than PG, gives a smoother throat hit and is suitable for sub-ohming.
Several medical, health care and food products have VG in them. The food and drug agencies have approved VG as a safe product, and hence it is vastly considered a good substance to humankind.
VG is less allergenic, and this makes it the best alternative for vapers who experience repulsive reactions in consumption of PG based e-liquids.
More powerful e-cig kits are usually designed with High VG e-liquid. The thick VG helps evaporate more heat; this, in turn, gives you much larger and denser clouds of vapour.
Nicotine and its types!
The most popular chemical found in tobacco is Nicotine. We have vape liquids of varying nicotine strengths.
Nicotine found in vape juice is available in two forms: free base and salt-based.
Your standard e-liquid has conventional(free base) e-liquid in it, which is the purest form of nicotine, making it more potent when heated.
Nic salts contain organic compounds like benzoic acids along with nicotine. For a less harsh vaping experience, benzoic acid is added to reduce the pH level. In addition, it allows you to vape at higher strengths.
Storage of e-liquids
To ensure maximum flavour and durability of e-liquids, store them in a cool and dark place. Never subject the bottles to direct sunlight and heat. Nor go for too cold! However, for long term storage, it is advisable to refrigerate the product. You can preserve an opened bottle for upto two years; provided you store it safely with a tightly closed lid.
Warning: Keep the bottle sealed and away from children and pets.